Below you can find a range of birth stories in which Little Birth Company techniques have been used. As you can see from how different the stories are, the techniques are useful whether you're having a homebirth, a caesarean or an induction for example.
I'd love to work with you so you can write your own amazing birth story!
MY STORY
---
When I was pregnant for the first time with my son, I originally had the attitude of 'ignorance is bliss' when it came to the act of actually giving birth. I figured that it would be best not to know about what could happen; after all I wouldn't have any control over events, right?! This was all turned on its head as I headed into the second trimester. I got chatting to a friend who had actually had a positive birth (unlike everything else I had heard!) and I started to realise that perhaps being informed about my choices would be a better strategy to adopt. Its normal to read up and prepare for anything else you experience in life, so why should giving birth be an exception? The more I read about hypnobirthing the more it all made sense to me and I did a complete u-turn, swotting up on all things birth and asking my community midwife tons of questions! I had decided that I wanted to be informed about my options and more in control over the birth. ​ After completing a hypnobirthing course along with my husband this left me feeling far more relaxed and confident. I made sure that I set aside time to listen to the mp3's and practise the techniques as the weeks went on. I was in touch with my hypnobirthing teacher and found this invaluable for reassurance and guidance throughout the pregnancy. Fast forward to 2 days before my due date and my contractions (or surges) started on the Friday night and continued through the weekend. All this while I was accepting of the situation, using my mp3's and breathing techniques to keep me calm throughout. I eventually headed to the hospital arriving at 2am on the Tuesday morning. I was using a Tens machine to help with the intensity of my surges. My husband who is a music buff had put together a long playlist of ambient music that helped to keep me calm. Visualising a hill to climb with a fantastic view at the top (the peak of the contraction) along with my breathing was getting me through each surge. At one point the surge was so powerful that I was struggling to keep focussed. My husband then stepped in and got me to mirror his breathing, allowing me to get a handle on things and regain control. I was so glad he had done the course with me as he was instrumental in keeping me on track. ​ I got to a point where I felt I needed some help so the midwife gave me some gas and air and not long after that examined me. Much to my surprise I was fully dilated and I could then get into the pool! I was so relaxed that my surges slowed down but at this point my son's head was crowning! I had to get out of the pool to try to get things progressing again, which involved me walking around the ward all the while still breathing through my surges. Eventually the midwife suggested that I might need some help and suggested the syntocin drip on the labour ward (augmentation) to help things along. My husband stepped in and asked if that was really what I wanted (again, I was grateful he was prepared and confident enough to protect my space!) At this point I felt that I needed help, so I was happy and onboard for this to happen. I remember thinking to myself 'Breathe for me, breathe for my baby'; I knew that if I could stay calm then that would help keep my baby boy calm too. Despite this unplanned turn of events, the techniques meant I was accepting of the situation and felt fully informed. I wasn't on the syntocin for very long before my son arrived! ​ I felt so buoyant afterwards, the midwife commended me on how well I'd coped with my first labour and a day later I told my husband that I would happily do that all over again! Even though the active labour stage had been 13 hours long, to me it had felt about half that, maybe 6 hours. Hypnobirthing had meant that I had no concept of time.
My second labour was a lot quicker! Surges intensified at 7pm, arrived at hospital at 3:30am and I remained kneeling whilst leaning on the bed just as I had through early labour. This position just felt instinctively right. I used a Tens machine and gas & air, had no time to get in the pool (although that would have been my preference), and felt the urge to push so went with it. I had put in my birth preferences that I didn't want to be examined this time, but I dont think there was a necessity anyway as everything was moving so fast. Before I knew it my daughter had arrived at 5:27am! I did need stitches afterwards so my hypnobirthing techniques helped me to stay calm whilst the midwife did this. What was lovely was another midwife later telling me that she had been 'in awe' of me. It is this thoughtful comment that has cemented in my mind that all midwives should be 'in awe' of their labouring women, and has led me to becoming a hypnobirthing instructor. ​ Throughout both labours, the healthcare team I had were very respectful of my birth preferences. Taking down the clock off the wall so I wasn't feeling hurried, keeping the lighting low, facilitating the right environment was all really important in helping me have two very positive experiences. Practising hypnobirthing with both labours has meant that I look back fondly on the two biggest events in my life.
---
GEORGIE AND ROSS
---
On the Wednesday whilst watching Jurassic Park (I will always remember that!) my waters broke. The excitement was overwhelming, knowing we would be meeting our little human very soon. I called the hospital and got an appointment for the next morning to be checked unless contractions started. That night of course I hardly slept, and I didn't start with any contractions, so we headed to the hospital for 9am on the Thursday.
I was seen by a midwife who did a VE and said she was 50/50 on whether my waters had gone. She said she could feel baby's hair, so was pretty sure they had. I was then booked in for an induction 48 hours from my waters breaking so I was sent home to try get things started naturally. The whole of Thursday and Friday we tried everything we had been taught, from watching funny movies, affirmations, massage, walks, clary sage etc but nothing was happening. So on the Friday evening at 7.30pm we headed to the hospital for my planned induction at 8pm.
When we arrived we were seen pretty much immediately, and were put into a private room where they strapped me up to check baby's heart rate. We were in this room for a few hours before being transferred into the labour room. We got into this room around midnight hoping to be seen by a midwife soon. We set up the room and tried to get some sleep. We weren't seen until 10am on the Saturday morning by a midwife who unfortunately wasn't fully on board with the hypnobirthing and wasn't quite the midwife for us. Firstly she couldn't sign onto the monitor and was getting a bit stressed, then when she tried to put my cannula in she hit a valve inside the vein so got another midwife in to try who did the same thing! After 3 attempts finally it was in. The whole time I was questioning whether my waters had actually broken, so I asked to be examined again before they started my induction. Again she was 50/50, however she then told me leaving it any longer would have increased the risk of infection, so we decided to go ahead.
After about an hour of the drip being on (and turning it up every 20 minutes) I was at a high dose and nothing was happening apart from a few cramps. The midwives said I should definitely be feeling stronger contractions by now so they decided to get the head midwife in, who did another VE and then told me my forewaters hadn't broken, and wasn't happy that I had been in all day and this wasn't picked up. My waters now needed to be broken, and this also wasn't straight forward. The tool they normally use wasn't clipping it so after three attempts they decided to use another tool. This worked straight away and at 3:30pm the contractions started.
Once the contractions started it was full on. We had the room calm still and with our music playing. Once the contractions got stronger I put my TENS machine on and I got into the zone. I had a little routine with each contraction which seemed to work and get me through. Around 3 hours later I was sick and told that was a good sign, then shortly after I felt the urge to push. The midwife, who by the way was now a new one and was amazing, totally understood what me and my husband where trying to do and worked with us. She said I was 20 minutes away from the 4 hour mark where they would normally do a VE so I waited. At 4 hours she checked and I was 8cm dilated…I couldn't believe it, I was so happy!!
And with that I got off the bed and the urge to push became stronger so I started and went with it, and for the next hour and 45 minutes I was pushing with each contraction. There was no concern about me or baby but I was getting tired. A doctor came in who also was amazing and really encouraged me at each contraction to push, however nothing was changing so he decided to use forceps. By this point I was ready for baby to arrive. Within 15 minutes of this our little boy was in my arms at 9.49pm with the skin on skin contact I asked for. Because of the induction they gave me the injection to help get the placenta out but I was so engrossed with our little boy I didn't even notice.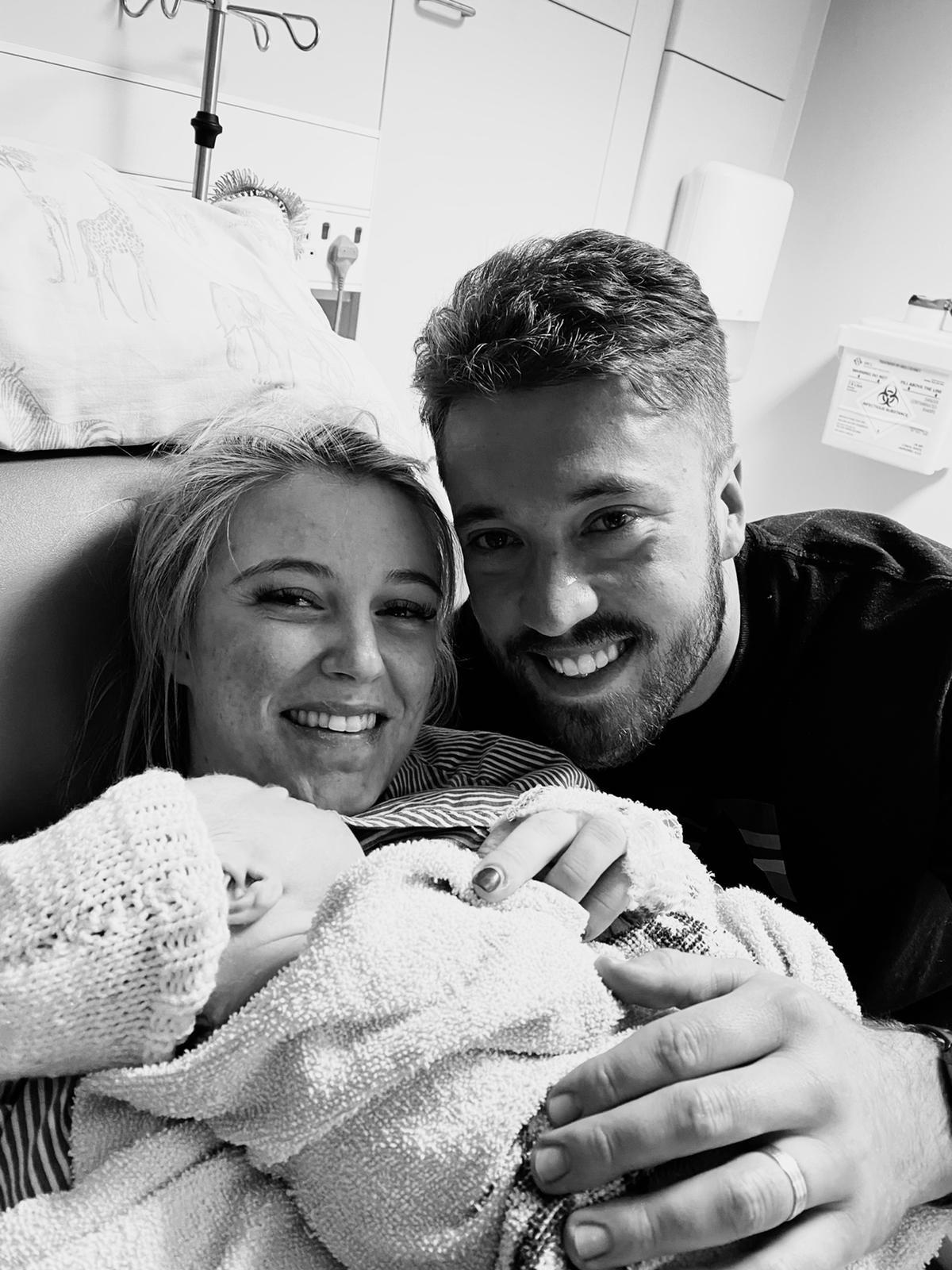 My labour was a completely pain relief free experience and I wouldn't have done this had my head not been in the right place with everything Katie had taught me. My husband said I was a different woman in that room, like someone came in and took over. I can honestly say even though my experience wasn't what I had planned it was amazing, and all in all was a positive one, which is what my aim was regardless of its direction. A massive thank you to Katie for all your help, support and knowledge.
---
A POSITIVE VBAC
---
This mum was feeling apprehensive about the birth of her second baby after having a Caesarean birth with her first child. After doing the Hypnobirthing Workshop with me, she realised the importance of staying calm and relaxed during labour and went on to have a positive VBAC (Vaginal Birth After Caesarean). We had our little boy at 37+2, it happened really quickly! Went to bed with my daughter at about 7:45pm. Woke up with cramps at about 8 and then the contractions got more frequent quite quickly. I called the hospital at 8:40pm and they said I sounded really calm and was only in early stages of labour. But the contractions were about 4 minutes apart by 9pm, so I called the hospital back as I knew it was a good 35 minute drive to get there. The breathing exercises really helped in the home and in the car. When I arrived at the hospital, the midwife said I seemed calm. She examined me and I was 6cm dilated already! I felt the urge to push at about 10:45pm, I found this easier than the earlier contractions as I just went with what my body wanted to do. I only used gas and air as everything was happening pretty rapidly! My little boy was born at 11:54pm. The workshop helped me to realise the importance of staying calm and relaxed. I would recommend it to any of my friends who are expecting. Thank you!
---
ALEX'S BIRTH STORY
---
This formidable woman and her incredible birth partner felt that they had still had a positive birth experience despite having an emergency Caesarean, with some extremely challenging circumstances. Despite the unplanned turn of events, Charlotte & Carlos felt educated and prepared having done the Complete Hypnobirthing Programme with me.
PLEASE NOTE: This story includes an incidence of resuscitation.
I had our little girl Alexandra at 40+10 days via emergency c-section. When I first found out I was pregnant I had no idea what to expect and felt completely unprepared. I did some research, read several brilliant books and was recommended the hypnobirthing course with Katie. I think this was invaluable for me as someone who likes to feel in control and informed – it gave me a chance to learn the science behind birth, practice the relaxation techniques and ask every question which came to me!
Our plan was for a natural water birth in Broadlands midwife led unit with, in an ideal world, only gas and air. The reality couldn't be further from that in the end!
I went into labour on the Thursday morning, 10 days "late" having declined 2 sweeps prior to that. The contractions were light at the start and it wasn't until the evening at about 17.00 that they ramped up and I told my husband I was definitely in labour! They then intensified and after just under 12 hours at about 3am we made our way to Broadlands. They did a VE (vaginal examination) and confirmed I was fully effaced but only 1cm dilated. We headed back home and I spent the following 24 hours having contractions. I focused on my breathing, we watched our travelling videos and listened to the hypnobirthing tracks. I was on the sofa, then on the floor, in the shower, then the bath, finally in bed. Anything which helped in the moment, with my husband forcing me to eat and drink. Finally, after another day and night of contractions which were pretty intense and coming 2/3 every 10 minutes, we headed back to the hospital. At this point I had had enough and was ready to be told I was in established labour – I'd barely slept for 48 hours other than drifting in and out of sleep when I could between contractions.
We got to the hospital at about 2am and I agreed to another VE. Unfortunately, during the second VE, my cervix tore a little which caused a fair amount of bleeding, and the midwife confirmed that I was 3cm dilated and in established labour but would need to go to labour ward for continuous monitoring – water birth out of the window!
The midwife was brilliant and very on board with hypnobirthing. We lowered the lights and I was able to stand and lean over the bed, with some gas and air for the more intense contractions. After another 6 hours of contractions I agreed to another VE to check progress. I was now 4cm dilated. After more than 2 days of labouring, I was still only at 4cm and completely exhausted. At this point we decided to go for an epidural. I knew I couldn't keep going at this pace and although we tried to create a calm environment, I was struggling to zone out and progress as I wished. The epidural was unplanned, but allowed me to rest and sleep for a bit, and after another 12 hours, a VE confirmed I was at 10cm and ready to push. By this time the epidural was wearing off and I could feel the contractions again. I pushed for 2 hours, sat semi upright with support from a midwife, a trainee and my husband. After 2 hours, a Dr came to check progress and confirmed that she was still very high and, in his opinion, I was unlikely to be able to push her out without some assistance and Alex was under a fair bit of pressure with some dropping of her heart rate.
He advised to head to theatre for forceps and episiotomy and topped up the epidural as by this point I was feeling the contractions completely again. On arrival in theatre, the surgeon checked again ready to do the episiotomy but felt I wasn't actually completely 10cm dilated. At this point Alex's heart rate suddenly plummeted and they needed to do an emergency c-section. Due to the urgency, they administered a top up of epidural to ensure I couldn't feel anything but due to the rush, the top up numbed me completely including my arms and chest, so I was unable to move even my upper body. The c-section was fine and I was comfortable. However Alex came out unresponsive and required resuscitation. I was inevitably very emotional at this point as there was no cry, and several people rushed in to help resuscitate and manually rise her chest as she wasn't breathing on her own. The whole team were amazing and although they wouldn't let my husband see what was happening, they were talking to me the whole time. She was finally handed to us at 11 minutes but due to how numb I was, she had to have skin to skin with my husband instead as I couldn't hold her. They were great, allowing him to take his t-shirt off and wrapping them in a towel with her against his chest. I couldn't even move my head to see her so I was quite tense at this point. We were taken to a room after where my husband and the midwife had to help establish breastfeeding as I was still numb. It was quite frustrating! However, despite the unexpected turn and the emotional start Alex had, we were so grateful that she had arrived safely in the end. Alex had irregular breathing and due to the complex labour, was at high risk of infection so we ended up staying in hospital for 5 days and my husband was sent home at about 5am as I was taken to the ward.
I couldn't have planned for the unexpected twists and turns and although we ended up with a caesarean section, I felt totally informed and in control at every point of the labour. The c-section was an emergency but I trusted my caregivers entirely and felt respected throughout. I know the hypnobirthing made me go into the labour feeling informed and prepared, rather than with any fear, which for me is the most important thing. I understood what my body was going through and what my rights were at every stage so, despite the difficult labour and the drama, I would do it all again!
---
THE BIRTH OF MATILDA
---
I was 6 days past my due date expecting my second baby. My husband Paul and I (Vicky) had completed the hypnobirthing course with Katie. We had listened to the hypnobirthing tracks on a daily basis for a number of weeks, watched or read a lot of positive birth stories and made all the necessary plans for the birth. We were feeling ready for our baby to arrive and starting to feel quite impatient. I was getting ready for bed and felt a popping sensation in my back. From what I had read, some people have this sensation when their waters break. There wasn't much fluid leaking at this point but I thought I should try to sleep and was convinced that labour would start during the night. However, aside from a few mild stomach cramps, there wasn't much in the way of progress by the time I woke up the next day. In the morning we went into the Princess Anne hospital where it was confirmed that my hind waters had gone. The midwife gave me a membrane sweep and I was sent home. We were hoping to have a home birth so we started getting things ready and filling up our birth pool. Whilst this was happening my contractions started and within a couple of hours I was having three every ten minutes and they were feeling quite intense. At this point we called the labour line and were told that there weren't enough midwives on duty for us to have a home birth so I would need to come into the Broadlands Birth Centre. We were initially disappointed about this. However when we arrived at Broadlands, we had a large room with a birthing pool and the midwives were all lovely - it felt like a good environment to have our baby. My contractions had slowed down during the car journey and on arrival at the birth centre but after a while their frequency and intensity returned and things felt like they were progressing again. I focussed on my breathing during the contractions whilst moving around the room, bouncing on a birth ball and then sitting in the pool. The water was very warm and helped a lot with the discomfort from the contractions. However, after a while I found I was getting too hot in the pool so went back to walking around the room. It was at this point there was a definite increase in the intensity of the contractions along with a feeling of pressure and an urge to push. I remember the midwife asking me questions about how I was feeling but wasn't in a state to respond as I was so focussed on the contractions and my breathing. A few contractions later, our daughter Matilda was born, only two hours after arriving at the birth centre. I felt like the second stage of labour was a struggle given the intensity of the surges. However, the hypnobirthing course we had done with Katie and our birth preparation meant that I was able to manage any pain through only breathing techniques and some gas and air. I also felt very lucky that the team of midwives on duty were so supportive of my preference to have a natural birth and the care we received was so good.
I would recommend the hypnobirthing course to anyone expecting a baby. It was so helpful in understanding the labour process, what to expect from the birth and how to stay calm throughout. I had a very positive birth experience, which I don't think would have been possible without doing the course and practicing the hypnobirthing techniques.
---
A POSITIVE PLANNED CAESAREAN
---
I decided to have an elective c-section because I have a fear about giving birth naturally. The hypnobirthing helped me understand that natural birth could be calm and beautiful but I didn't feel I could go through with it. Katie was brilliant and changed our course to suit my needs. On the day of my operation anxiety started to creep in and I became fearful of what was about to happen. I was incredibly lucky to have a very supportive student midwife who I got on well with throughout my pregnancy and was able to attend the birth of my baby. She held my hand whilst the cannula and spinal block was given. The staff encouraged me to relax so they could insert the needle and I started to focus on my breathing. It was like a switch had gone in my head. My shoulders came down, I was able to take deep, steady breaths and I remained incredibly still. Before I knew it I was on the table, the screen was up and my partner was sitting beside me. I kept incredibly calm as I focused on breathing. In a very short time frame the surgeon had delivered my baby and declared it was a girl (we decided to opt for the surprise of the sex). Once she was out they could focus on stitching me up. Sadly I reacted badly to the drugs and became unwell. Whilst back in recovery I went into shock and started violently shaking, couldn't catch my breath and my teeth were chattering. My partner was able to remain in control and encourage me to focus on my breathing to calm me down thanks to the skills we had learnt on the hypnobirthing course. I am pleased I opted for a c-section, despite having a rough time afterwards, because it meant everything was calm and my birthing plan was followed completely as I wanted it to be. Thank you again for all your help and support.
---
THE BIRTH OF NOVA
---
Being pregnant was always something I couldn't wait for! To be able to feel their little kicks, hiccups and to know you were growing a little human that depended on you so much. My pregnancy was not at all what I expected it to be. From early on I started suffering from SPD, which resulted in using crutches towards the end. They don't show you in movies everything else that comes with being pregnant haha! I just kept thinking "I will get my baby girl at the end".
I have high BMI so I had to have a few more appointments throughout my pregnancy, such as the glucose test, growth scans and an anaesthetist appointment. All throughout, everything was going smoothly! No high blood pressure, happy baby, nothing in urine etc. I had my anaesthetist appointment and felt very pushed towards having an epidural due to a raised BMI. This was something I really did not want! She was telling me the worse case scenarios in case they couldn't get an epidural in, or if they needed to take me down to theatre. I mentioned a water birth, which I had also mentioned to my midwife before, only to be told that I wouldn't be allowed one again due to the raised BMI. I went from walking into the appointment knowing what type of birth and pain relief I wanted, to walking out confused and worried.
This was when my friend found Katie online and booked me in for the full 8hr course. Everything I learnt from these sessions calmed me down and made me feel prepared for the birth of my baby.
The growth scans showed that my baby was on the larger side. Due to this, the consultant (who I saw after every scan) was of the opinion that it would be best to be induced at 39 weeks. I was okay with this due to the SPD pain and I was struggling. So at 39 weeks, when a bed became available, I got the call to go in! They were using the cervical balloon induction method (Foley catheter/Cook balloon). It consists of two balloons on the end of a catheter. One balloon goes through the cervix and the other stays in the vagina. They inflate them once in and then deflate and remove them 12 hours later, hoping the cervix has thinned between the two balloons and the waters are ready to break.
Mine worked well and ended up falling out before they could deflate the balloons! They took me round to the labour ward and broke my waters successfully. Within half an hour, I started having contractions. To begin with my breathing was all over the place until my partner and my mother reminded me to focus on my breathing. I then picked a spot to look at and sorted out my breathing. I was then offered gas and air which I found personally helped me keep control of my breathing (and obviously helped with pain). Originally I made a playlist to listen to, but found out I was happy in the quiet and relaxed setting! Also took a pillow in just to have that comfort from home. This actually helped a lot!
Even though I had made it clear that I didn't want an epidural to start with and that I wanted to see how me and my body coped, an anaesthetist came in to the delivery room uninvited half way through my labour and strongly suggested an epidural. He also said that if I needed assistance delivering, they would take me to theatre and use forceps, and that if they need to perform a c-section, then they would have to knock me out completely! I made it clear that I was coping well and still did not want an epidural, and did not feel like I needed any extra help. Even the midwife told him I was doing really well and baby was happy. I definitely knew I could do it by continuing to focus on my breathing and not allowing his words to get in my head and continue in my zone.
I had an examination and was 8cm dilated. Throughout the birth I was calm and even though I stayed calm, I could feel myself starting to struggle a little with the pain, so they offered pethidine which I accepted. After this, the only way I could handle the contractions was to push against them. The midwife checked again and confirmed that it was time to push. After 7 hours and 25 minutes of labour and 9 minutes of pushing, our Nova was born! She was placed straight on to my chest and we enjoyed her first moments together!
I was slightly worried about tearing and needing stitches. I had in fact torn and had a second degree tear which was almost a third degree. They said that it would be okay to address this bedside, and there was no need to go to theatre.
I will say to anyone worried, not to be! Once your baby is in your arms, you zone out to everything else around you!
---
---