The following birth stories are all ones from clients of qualified Little Birth Company instructors. As you can see from how different the stories are, the techniques are useful whether you're having a homebirth, a caesarean or an induction for example.
I'd love to work with you so you can write your own amazing birth story!
MY STORY
---
When I was pregnant for the first time with my son, I originally had the attitude of 'ignorance is bliss' when it came to the act of actually giving birth. I figured that it would be best not to know about what could happen; after all I wouldn't have any control over events, right?! This was all turned on its head as I headed into the second trimester. I got chatting to a friend who had actually had a positive birth (unlike everything else I had heard!) and I started to realise that perhaps being informed about my choices would be a better strategy to adopt. Its normal to read up and prepare for anything else you experience in life, so why should giving birth be an exception? The more I read about hypnobirthing the more it all made sense to me and I did a complete u-turn, swotting up on all things birth and asking my community midwife tons of questions! I had decided that I wanted to be informed about my options and more in control over the birth. ​ After completing a hypnobirthing course along with my husband this left me feeling far more relaxed and confident. I made sure that I set aside time to listen to the mp3's and practise the techniques as the weeks went on. I was in touch with my hypnobirthing teacher and found this invaluable for reassurance and guidance throughout the pregnancy. Fast forward to 2 days before my due date and my contractions (or surges) started on the Friday night and continued through the weekend. All this while I was accepting of the situation, using my mp3's and breathing techniques to keep me calm throughout. I eventually headed to the hospital arriving at 2am on the Tuesday morning. I was using a Tens machine to help with the intensity of my surges. My husband who is a music buff had put together a long playlist of ambient music that helped to keep me calm. Visualising a hill to climb with a fantastic view at the top (the peak of the contraction) along with my breathing was getting me through each surge. At one point the surge was so powerful that I was struggling to keep focussed. My husband then stepped in and got me to mirror his breathing, allowing me to get a handle on things and regain control. I was so glad he had done the course with me as he was instrumental in keeping me on track. ​ I got to a point where I felt I needed some help so the midwife gave me some gas and air and not long after that examined me. Much to my surprise I was fully dilated and I could then get into the pool! I was so relaxed that my surges slowed down but at this point my son's head was crowning! I had to get out of the pool to try to get things progressing again, which involved me walking around the ward all the while still breathing through my surges. Eventually the midwife suggested that I might need some help and suggested the syntocin drip on the labour ward (augmentation) to help things along. My husband stepped in and asked if that was really what I wanted (again, I was grateful he was prepared and confident enough to protect my space!) At this point I felt that I needed help, so I was happy and onboard for this to happen. I remember thinking to myself 'Breathe for me, breathe for my baby'; I knew that if I could stay calm then that would help keep my baby boy calm too. Despite this unplanned turn of events, the techniques meant I was accepting of the situation and felt fully informed. I wasn't on the syntocin for very long before my son arrived! ​ I felt so buoyant afterwards, the midwife commended me on how well I'd coped with my first labour and a day later I told my husband that I would happily do that all over again! Even though the active labour stage had been 13 hours long, to me it had felt about half that, maybe 6 hours. Hypnobirthing had meant that I had no concept of time.
My second labour was a lot quicker! Surges intensified at 7pm, arrived at hospital at 3:30am and I remained kneeling whilst leaning on the bed just as I had through early labour. This position just felt instinctively right. I used a Tens machine and gas & air, had no time to get in the pool (although that would have been my preference), and felt the urge to push so went with it. I had put in my birth preferences that I didn't want to be examined this time, but I dont think there was a necessity anyway as everything was moving so fast. Before I knew it my daughter had arrived at 5:27am! I did need stitches afterwards so my hypnobirthing techniques helped me to stay calm whilst the midwife did this. What was lovely was another midwife later telling me that she had been 'in awe' of me. It is this thoughtful comment that has cemented in my mind that all midwives should be 'in awe' of their labouring women, and has led me to becoming a hypnobirthing instructor. ​ Throughout both labours, the healthcare team I had were very respectful of my birth preferences. Taking down the clock off the wall so I wasn't feeling hurried, keeping the lighting low, facilitating the right environment was all really important in helping me have two very positive experiences. Practising hypnobirthing with both labours has meant that I look back fondly on the two biggest events in my life.
---
A PLANNED CAESAREAN WITH TWINS
---
When I found out I was pregnant with twins, I was so excited but pretty soon after the initial excitement my mind went straight to what the birth would be like. I knew that I had wanted to do hypnobirthing and that I would love to try a natural birth but I didn't know if that would be possible now that I was expecting twins. As I approached the end of my pregnancy, it was clear that twin 1 was breech and didn't seem to be up for moving so I had to have a scheduled caesarean. For various factors, the decision was made that I would have that at just over 37 weeks pregnant.
I had an amazing doula with me who came over and we talked through my fears and concerns about having a c-section. Honestly I was so nervous and scared that it wasn't going to be the lovely, relaxed, positive birth that I was hoping for. However, she was brilliant and helped me make a list of things that I wanted. The day came and we arrived at the hospital. I had asked if could take my ipod in with me to listen to music (I also had the option of having it playing out loud in the theatre too) and I asked them not to talk to me unless I asked as I felt that all the info would overwhelm me. Honestly it was an incredible birth. We went in and they explained what would happen for getting the epidural and let me have my ipod on even at that stage, once they had explained it, they went quiet and got on with it which was exactly what I needed. There were lots of other staff in the operating theatre as you basically need double the people when you have two babies but they were all really great and just got on with what they needed to do. It was a really peaceful atmosphere. Once everything had kicked in the anaesthetist made sure I couldn't feel anything and the screen went up (some people choose the option of a gentle c-section where the screen is lowered and you can see your baby emerging but I was happy to wait, I wasn't sure if I would like that but if I was to have a caesarean again I think I would consider it). As I said before, I had originally asked if they could not speak to me so that I could stay in my zone, do some hypnobirthing breathing whilst it was going on and listen to my music but the anaesthetist made a point of checking if I still wanted that, and actually, once I was there I did feel that I wanted someone to talk me through it. She was amazing and walked me through what was going on at each stage. It was SO relaxed, which made for quite a bizarre feeling. Knowing what is going on behind the screen and yet feeling so chilled. Then twin 1 (now known as Maisie) arrived and they showed her to me (surreal, incredible, life changing), she needed a quick check over so they whisked her off to a side cot whilst they focussed on getting twin 2 (now known as Delilah) out. Once they were certain that all was well with them both they bought them round to us and we both got to do skin to skin which was so incredible. Even in the short time where there were potential questions, it remained very calm in there and I wasn't worried at all.
I had had such pre conceptions about having a caesarean before I actually experienced one. I was able to use my hypnobirthing skills even though I wasn't having a vaginal birth and they were so great at making the environment relaxed, chilled and very in control. I would love to try a VBAC next time but if I needed to have a caesarean again I would be equally as happy. I truly had a really positive birth experience with my twins. LBC Instructor: Hannah Gerken (www.reframingbirth.co.uk)
---
THE BIRTH STORY OF FREDDIE
---
Day 10 of no arrival.. feeling like it was never going to happen and would be induced on Easter Sunday so I had my mind set on that date! Thursday evening watching game of thrones 🤪 bouncing on my ball.. went to bed as normal.
I started waking a few times needing the toilet and felt the odd period pain but thought nothing of it. 2.45am my body woke me up so quick, forced me out of bed to get to the toilet, as I stepped in the bathroom the biggest gush ever!!! I was like what have I just wet myself!?! Turned the light on and it was my waters but the waters was a yellow/brown colour so I knew straight away baby poo'd in me. I stayed calm and was so bloody excited thinking my baby could be on the way! Woke Calum and he was as calm as ever and rang the hospital they said to come in. I had a quick shower and got myself ready and we headed to the hospital with high hopes of coming home with our baby. Midwife and doctor checked over my waters, I got transferred to labour ward as the poo was at a high risk so straight to be monitored to check baby was okay.
Midwife told me the good news was I wouldn't be leaving here without baby but then was told I was un able to have a water birth as they needed to monitor baby till he arrived. I started to worry and get upset not being able to have a water birth. 6am come round quicker than ever and I was put on the drip to speed labour up as baby was getting a little unhappy. 7am come and contractions started coming fast and painful!! Calum was so calm and kept me relaxed and positive minded that we was going to do it. The midwife said to me 'I'm going to honest with you the drip is a lot more painful so if you want any other drugs then do what you feel comfortable with' to me I was actually happy she said it and didn't fake it to me because it gave me time to set myself up and stay calm which I totally did and can say I rocked labour and would do it again!
Calum was counting me in and keeping me in the zone the whole time. I screamed out once and didn't do it again as it took so much energy out of me!! Back in the zone and pushing started honestly I've never felt pain like it but I told myself I can do it and I will!!
Midwife was amazing the support and positive vibes she showed me really got me through it. We were getting to the stage where I was totally drained and his head kept going back in. Contractions were around 8 in 10 minutes and felt like I couldn't keep up!! Midwife told me we need to get baby out now as he was getting more stressed out I kept pushing and felt like nothing was happening.. she told me I know you can do it and said I'm going to give you 2 more pushes and if baby isint out I'm going to need to cut you I thought no way!! And in those 2 pushes our little bundle of joy arrived at 10.22am
Calum crying holding my face saying we've got a beautiful baby boy you did it I'm so proud of you has to be the best words I've ever heard. The midwife said to me my god how did you do that on just gas and air you super mum!!

I felt so proud of myself and it honestly has to be all the breathing techniques, relaxing scripts and everything you taught me Azeeta!!
I cried writing this because it was the best experience of my life!!
Mums to be really need to be told how good labour can be and it isn't as daunting as it's made out to be.

LBC Instructor: Azeeta Nielsen (www.azeetanielsen.com) Rachel and Calum did my 3 hour workshop and Rachel did lots of women only sessions and drop ins to keep in the zone. Amazing story!
---
GEORGIE AND ROSS
---
On the Wednesday whilst watching Jurassic Park (I will always remember that!) my waters broke. The excitement was overwhelming, knowing we would be meeting our little human very soon. I called the hospital and got an appointment for the next morning to be checked unless contractions started. That night of course I hardly slept, and I didn't start with any contractions, so we headed to the hospital for 9am on the Thursday.
I was seen by a midwife who did a VE and said she was 50/50 on whether my waters had gone. She said she could feel baby's hair, so was pretty sure they had. I was then booked in for an induction 48 hours from my waters breaking so I was sent home to try get things started naturally. The whole of Thursday and Friday we tried everything we had been taught, from watching funny movies, affirmations, massage, walks, clary sage etc but nothing was happening. So on the Friday evening at 7.30pm we headed to the hospital for my planned induction at 8pm.
When we arrived we were seen pretty much immediately, and were put into a private room where they strapped me up to check baby's heart rate. We were in this room for a few hours before being transferred into the labour room. We got into this room around midnight hoping to be seen by a midwife soon. We set up the room and tried to get some sleep. We weren't seen until 10am on the Saturday morning by a midwife who unfortunately wasn't fully on board with the hypnobirthing and wasn't quite the midwife for us. Firstly she couldn't sign onto the monitor and was getting a bit stressed, then when she tried to put my cannula in she hit a valve inside the vein so got another midwife in to try who did the same thing! After 3 attempts finally it was in. The whole time I was questioning whether my waters had actually broken, so I asked to be examined again before they started my induction. Again she was 50/50, however she then told me leaving it any longer would have increased the risk of infection, so we decided to go ahead.
After about an hour of the drip being on (and turning it up every 20 minutes) I was at a high dose and nothing was happening apart from a few cramps. The midwives said I should definitely be feeling stronger contractions by now so they decided to get the head midwife in, who did another VE and then told me my forewaters hadn't broken, and wasn't happy that I had been in all day and this wasn't picked up. My waters now needed to be broken, and this also wasn't straight forward. The tool they normally use wasn't clipping it so after three attempts they decided to use another tool. This worked straight away and at 3:30pm the contractions started.
Once the contractions started it was full on. We had the room calm still and with our music playing. Once the contractions got stronger I put my TENS machine on and I got into the zone. I had a little routine with each contraction which seemed to work and get me through. Around 3 hours later I was sick and told that was a good sign, then shortly after I felt the urge to push. The midwife, who by the way was now a new one and was amazing, totally understood what me and my husband where trying to do and worked with us. She said I was 20 minutes away from the 4 hour mark where they would normally do a VE so I waited. At 4 hours she checked and I was 8cm dilated…I couldn't believe it, I was so happy!!
And with that I got off the bed and the urge to push became stronger so I started and went with it, and for the next hour and 45 minutes I was pushing with each contraction. There was no concern about me or baby but I was getting tired. A doctor came in who also was amazing and really encouraged me at each contraction to push, however nothing was changing so he decided to use forceps. By this point I was ready for baby to arrive. Within 15 minutes of this our little boy was in my arms at 9.49pm with the skin on skin contact I asked for. Because of the induction they gave me the injection to help get the placenta out but I was so engrossed with our little boy I didn't even notice.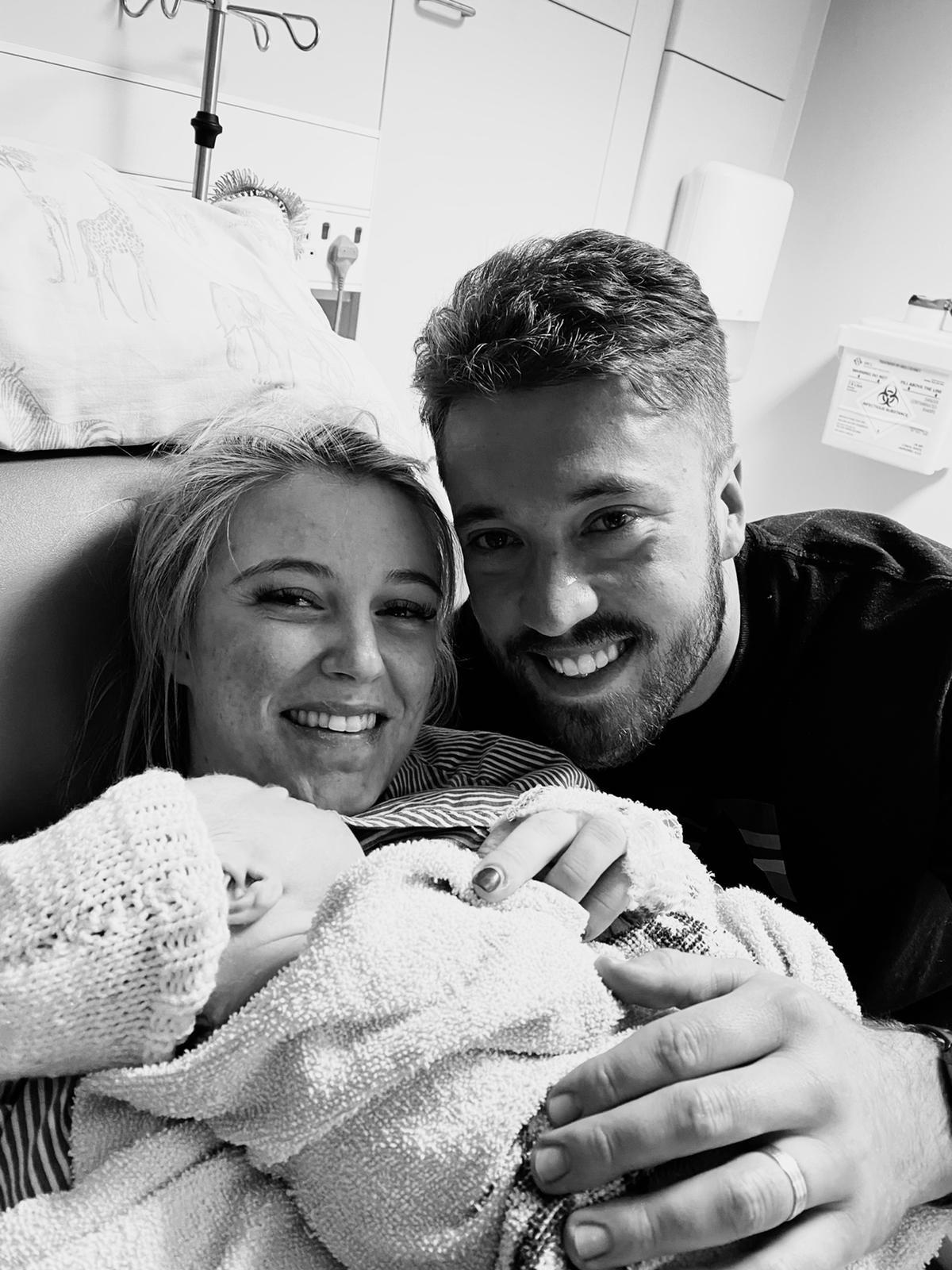 My labour was a completely pain relief free experience and I wouldn't have done this had my head not been in the right place with everything Katie had taught me. My husband said I was a different woman in that room, like someone came in and took over. I can honestly say even though my experience wasn't what I had planned it was amazing, and all in all was a positive one, which is what my aim was regardless of its direction. A massive thank you to Katie for all your help, support and knowledge.
---
---